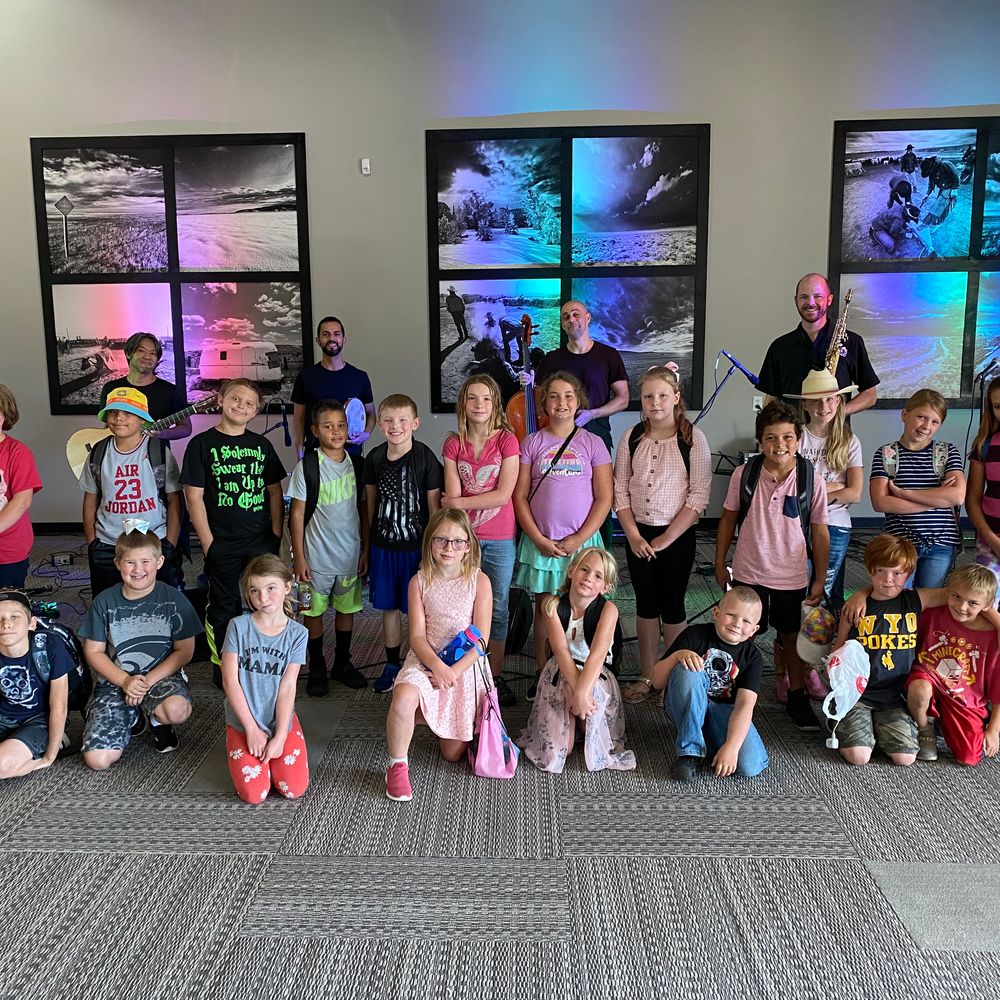 Quarteto Nuevo Touring Programs World Fusion:
Quarteto Nuevo's World Fusion program merges western classical, eastern European folk, Latin and jazz with an organic feel that packs a wallop!The ensemble's razor-sharp precision is enhanced by jazzy interludes, lightly rumbling percussion motifs and mesmerizing rhythms.They effectively meld the music of ancient worlds and faraway places with a contemporary groove that enchants audiences of all ages! Quarteto Nuevo's master musicians create emotionally-charged soundscapes with instruments and sensibilities that represent very different world cultures. Their unique instrumentation – soprano saxophone/woodwinds (Damon Zick), cello (Jacob Szekely), guitar(Kenton Youngstrom) and hand percussion (Felipe Fraga)–richly colors their wide-ranging repertoire, from Heitor Villa-Lobos' "Bachianas Brasileiras" and Chick Corea's "Children's Song No.6′ to traditional Macedonian "Gadjarsko" and original works "Hector, Desmond and Titus", "RainSong" and "Dizer O Que".Jazz Roads:The Jazz Roads program features Quarteto Nuevo performing original jazz compositions inspired by diverse musical cultures along with compositions by great composers such as Chick Corea, Egberto Gismonti, and Astor Piazzolla.Audiences will hear a multitude of influences from around the world firmly rooted in the American jazz tradition. Classical Journeys: In this all-classical program, Quarteto Nuevo embraces their conservatory backgrounds as they present an array of works by some of history's most unique composers.From Frenchmen Erik Satie and Claude Debussy to South Americans Astor Piazzolla and Heitor Villa-Lobos to their original compositions, this program will delight the most discerning musical palette.The Music of South America:Take a musical journey to South America from Argentinian Tango to Brazilian Samba and beyond!This unique program combines Quarteto Nuevo's distinctive arrangements of South America's greatest contemporary and historical composers with their original compositions inspired by the musical and cultural diversity of the Americas! Seven Continents: In this imaginative and captivating program, Quarteto Nuevo presents musical cultures from around the globe! Experience Quarteto's distinct blend of improvisation and virtuosic flair as the group romps through classics and original compositions from The Balkans, Northern India, LatinAmerica and a few surprises in a musical adventure unlike any other!
Quarteto Nuevo combines the talents of Damon Zick (woodwinds), Jacob Szekely (cello), KentonYoungstrom (guitar), and Felipe Fraga (percussion), to offer young musicians some of the most innovative programs in the world! The group's commitment to the creation of original music and the education of students is evidenced by the hundreds of workshops given across the U.S for enthusiasts young and old! Workshops vary in length from 45 to 90 minutes. We work with your educators to tailor the content and format of each class to meet their specific needs. Why Quarteto Nuevo: The diversity of stylistic and instrumental backgrounds allows Quarteto Nuevo to offer 45-90 minute workshops to high school and college guitar, band, jazz, and orchestra students. The group is capable of teaching in a wide variety of styles from Classical and Jazz to Brazilian and other world styles. The members of the quartet are world-class educators in their own right with over 80 years of combined teaching experience as professors at The Colburn School, Pepperdine University, Cal State Fullerton, Pasadena City College and String Project Los Angeles and have lectured at major universities including The Berklee School of Music, UCLA, Oklahoma StateUniversity, Cal Arts, The Barcelona Conservatory, and the Hong Kong Academy for the Performing Arts, and have presented in workshops and master classes for The American String TeachersAssociation (ASTA), The Jazz Educators Network Conference (JEN), IAJE, American Guitar Congress and are published in The Strad, Strings Magazine, the Hot Licks Series and Frets Magazine to name a few.